How to use Weav Run
New to Weav Run? Let's get you started!

1.Register (easy peasy!)
2. But where should I put my phone? Hold it! Strap it to your arm. Place it into a belt or put it in your pocket. We utilize your phone's accelerometer (that's a real word; we'll wait while you google it...), which analyzes your up and down movements to detect your cadence. Bouncy is no bueno so keep that phone secure.
3. Select 'Detect My Tempo'. The music will start at 100 bpm. Now, take off and let the music follow you.
4. Can I pick my playlist? NOT YET. Weav Run is just getting started so sit tight. (Well, run tight - no sitting allowed!)


5. I don't run, can I use Weav Run during my walks? You betcha! The music will adjust just like it does with running. Speed walk and the music speeds up. Slow down and the music follows you.
6. Can I skip the songs? SURE CAN! Swipe left and click the little orange skip button to remove it from the playlist queue. Repeat the process to re-add when you're ready to listen again!
7. Can I repeat songs? You bet your sweet daisies you can! Just press the little repeat button the right of the artist's name. If toggled, it will repeat forever. Literally.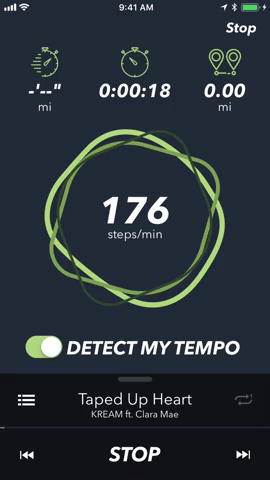 8. How do I stop? Click stop. Save. Share it!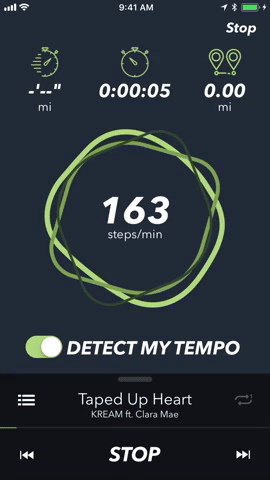 9. My coach keeps telling me that I should be running at a certain bpm, can you help me do that? WE SURE CAN!! Put the app on "I know my tempo" mode and let it rip!