How to use Weav Run
New to Weav Run? Let's get you started!
A
You can choose between two modes: Detect My Tempo and I Know My Tempo.

Detect My Tempo mode will will start at 100 beats per minute (bpm) - just take off and the music will follow you!
I Know My Tempo mode will let you set your desired beats per minutes (bpm). Set where you want to start, and then press "Start" to get going and track your run. You can change this at any point during the run!
 
Q
Can I play songs from my own playlist?
A
So we actually re-engineer each song from the ground up to make it adaptable, therefore we can't simply link to your Spotify or iTunes. We're currently working hard to license and reengineer more tunes for you, though!
Q
I've downloaded the Apple Watch App, can I run just with my watch?
A
So at this point, you do need need to have both on you, because we've completely reengineered each song to be adaptive, they need to be housed on iPhone.
But you can simply put your phone in your pocket, and don't have to worry about it for the rest of the run! You can change songs, start and stop, and save your run all from your watch.
Q
My coach keeps telling me that I should be running at a certain steps per minute, can you help me do that?
A
WE SURE CAN!! Put the app on I Know My Tempo mode, enter your desired SPM, and let it rip! If you don't know your cadence, you can use Detect My Tempo mode, or simply look at the "Sessions" tab to see your average.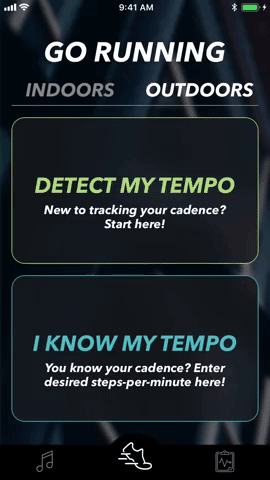 A
SURE CAN! Tap "..." then "Do not play." To listen again, just tap the track and it will return to your queue!
A
Of course! Simply double tap the "repeat" button on the bottom right hand corner of the player.
A
Yes! Yes, you can! Just be mindful that we can't track your distance when you're inside on your iPhone (the Apple Watch can though), but you can enter your miles manually after each indoor run - and we'll calculate your pace!
Q
How can I find out my baseline cadence?
A
Weav measures your cadence automatically - if you run for at least one mile, you'll have a great sense for your average cadence. If you run for many miles, check the "Sessions" tab of the app to see your average cadence over the course of those runs!
Q
I don't run, can I use Weav Run during my walks?
A
You betcha! The music will adjust just like it does with running. Speed walk and the music speeds up. Slow down and the music follows you. Just make sure that you're walking at a tempo of at least 100 steps per minute; any slower than that, and we're afraid our music may run away from you.
A
You bet your sweet daisies you can! Just press the little repeat button the right of the artist's name. If toggled, the song will repeat forever. Literally.
Q
Where should I put my phone?
A
Hold it! Strap it to your arm. Place it into a belt or put it in your pocket. We utilize your phone's accelerometer (that's a real word; we'll wait while you google it...), which analyzes your up and down movements to detect your cadence. Make sure to keep your phone secure.
Q
Click stop. Save. Share it!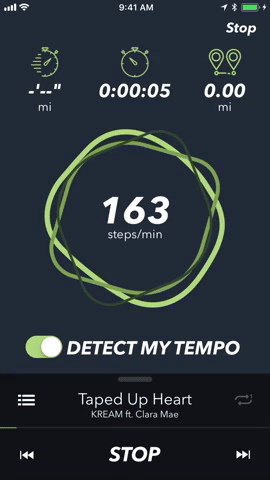 Q
I want to hear this without having to go for a dang run!!
A
Don't worry, no running is required. Choose "detect my tempo" mode, hold your phone and pretend run (move hands up and down as if running). See? EUREKA! Adaptive running is upon us!
That's it! You're a certified Weaver!
If you have more advanced questions, be sure to check out our excellent FAQ here. Any other questions, don't be a stranger! Shoot us an email at yourfriends@weav.io